Appreciate  Motherly Figures In Your Life With Beautiful Flower Bouquet
Nothing can work in our life if the guardian angels are not present. I am not talking about any heavenly figure but they are not less than them. They are our mothers, grandmothers, sisters, aunts, or any other motherly figure in our life. They are the real guardian angels for every one of us. Imagine a day without them? Sounds real hard, right? They work round the clock for us, so it is our responsibility to appreciate them for the same. To say a thank you for all the things they do for making our day bearable and easy.
For doing that there is nothing better than gifting them a Flower Bouquet. Flowers are always appreciated and adored by everyone. But there are so many varieties of them available everywhere, cause confusion right? Not to worry at all; we are here to guide you on that.
Carnations
Carnations are one of the best flowers when it comes to gifting flower bouquet. This white and pink flower is the representation of unconditional love and good luck. Mother's love is always unconditional for all her children, appreciates her efforts, and shows respect to her unconditional love by gifting her carnations flower.
Plus, while other flowers lose their beauty and fragrance in a short time, carnations are the long-lasting ones. They don't go dry quickly, which means your gift will be fresh and alive for a long time.
Roses
How can we forget about the most loved flower when we are talking about Flower Bouquets? Roses are the evergreen gifts for everyone; they are the best classical present for all the motherly figures in your life. Go for pink, yellow, white, or cream coloured roses, they symbolize purity, thoughtfulness, appreciation, love, and gratitude. They can be your best choice for appreciating the presence of all those mothers in your life.
A mixed rose bouquet is always a great choice to be with. Roses are available in various colours which is a great benefit with them. Go with the combination of various colours for making your gift colourful and more appreciable.
Orchids
Orchids are considered as the most "highly evolved" of flowering plants, plus they are available in varieties of colours and sizes. The presence of varieties becomes a plus point in your selection process; you can choose any of them according to your needs and wants. When it comes to mix-matching, you know you have got a big bonus here.
Orchids symbolize the bold element of nature, which makes it a perfect gift for all those motherly figures who love being trendy, fashionable, and love exotic styling.
Tulip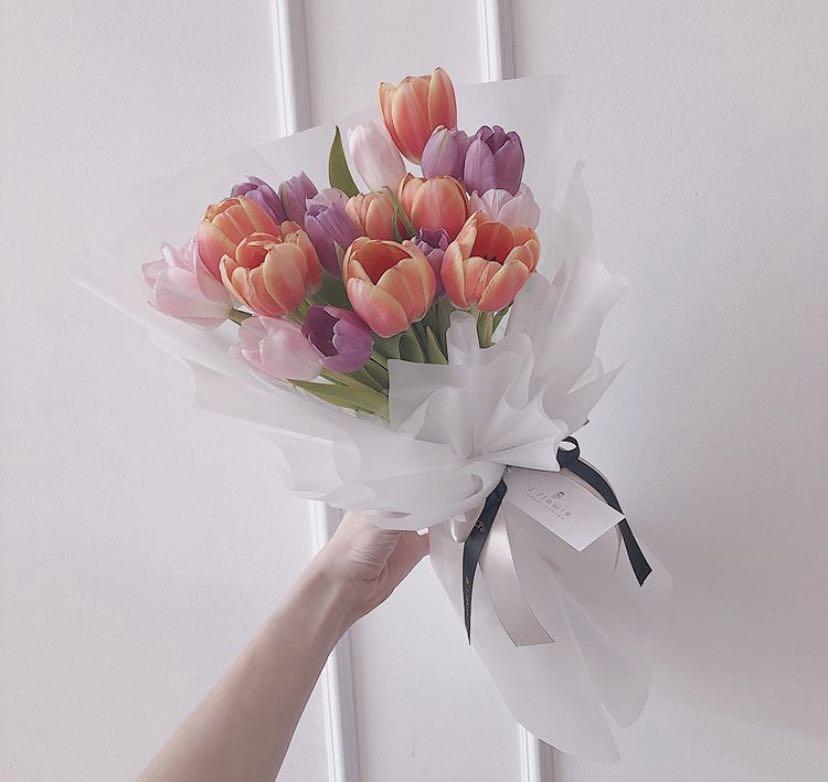 Tulip is available in many different colour and each colour of these flowers symbolize different meanings and emotions. While a purple tulip is a symbol of royalty, the pink one is the representation of affection. Don't forget about their various shapes while making the choice. There are so many of them, the parrot one, lily-fringed, French, fringed and many more to add up into the list. As every mother is unique in their way, you should choose the unique variety for them.
They are the welcome symbol of the spring, thus, they can bring that colour, warmth, and colours of spring to your mothers too!
Peony
Peony is a colourful symbol of honour and good fortune. They are available in varieties of shades which makes them the perfect arrangement for all your guardian angels. Peonies are quite large as compared to other bouquets flowers, thus, they can easily catch the attention of everyone and can easily become the centerpiece. These blooms are the perfect ones for fulfilling your flower bouquet idea.
Bonus point, they have a wonderful smell and can easily make the idols of your life happy and cherish their moods in no time.
Bluebells
 Renowned for their beautiful appearance and soft blue shades. Bluebells can be the best gifts for your motherly figures if they love to embrace calmness and soothing vibes. Their perfect structure and eye-catching colour hues can do justice to your present. Appreciate your pretty angles with this pretty flower.
What are you waiting for now? Go and grab your flower bouquet and show your love for all the guardian angels that are the support system of your life.